High Noon Holster Review- RUGER LCR
Hello LCR fans, and fans of High Noon Holsters. While this isn't my first review of a HN product for a Ruger revolver. I have to say. That a few things have changed at Ruger since my last SP-01 and the review of the HN Speedy Spanky paddle. The new LCR is a lot lighter than the SP series, and that is good news for people like myself, who have found the stainless steel guns just to heavy to carry. However, nothing has changed at High Noon. They have added a few models along the way, but are still very dedicated to the crafting of fine holsters and other leather gear. Due to my Fibromyalgia that is progressive, and the fact that I wore a heavy police duty belt for almost 20 years. I find that because of constant back pain. I can no longer carry any gun that weighs more than say 20 ounces loaded all day long. Enter the Light Compact Revolver from Ruger! Luckily, my new LCR has been a joy to carry as I really don't even notice it. Even though it is only a five- shot .38+P revolver, it's much lighter than my 9mm RAMI. Not able to find much in the way of good LCR holsters on the market, I settled on a cheap IWB until a better solution was available. Thankfully..a couple weeks ago. Michael and the crew at HIGH NOON sent me two LCR holsters for review. Firstly, the Bare Asset laminated SKIN type IWB holster is of the same type that I've used for a J-frame a few years ago. Black in color with black stitching and of the IWB (Inside the waist-band) flavor. I don't really like IWB holster much, but know that many of you do. I tend to use IWBs in a modified form. That is..ITB-between my belt and pants. Not so great looking but ideally- the gun should remain concealed.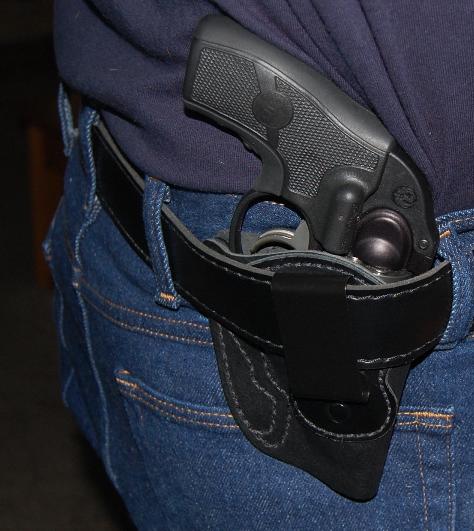 Like most holsters in the extensive line that use a tension screw.. This HIGH NOON IWB proved both comfortable and secure. Some people might have issues with a holster that features a belt clip, but I've found the HN clip to be quite effective. Once it is set on your belt, it is quite hard to remove by draw or accident. The clip is attached to the body of the hoster by strong and clean stitching- that further enhances this holster. Even though the selling price is only $24.95 (stocking item). It seems to be worth 3 times as much as some of the poor excuses for holsters that one sees online and in Gun Shop/Shows. My LCR looks quite at home in the Bare Asset when combined with my HN Second Skin belt. Even though my gun has the Crimson Trace laser grip installed, and it could probably sit a bit deeper if used with the stock LCR grips. The revolver was able to seat with satisfaction into the holster. The holster does close once the gun is out, but that isn't really an issue in my book. Other holster models in the the High Noon lineup offer a reinforced mouth. I think the Bare Asset could be a BEST BUY holster for any gun, and will serve your LCR, IWB needs very well.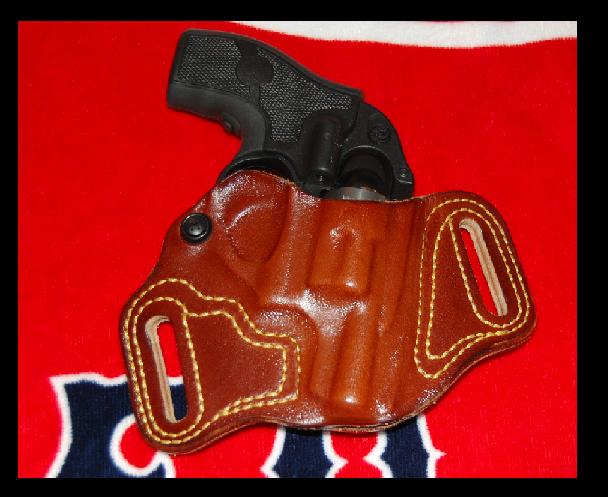 The second holster sent to me is quite different. Known as the TOPLESS model belt holster. This one is in tan cowhide with the signature golden thread as referred to by other reviewers in the past. This time it is more yellow, but still strong and even, a hallmark of High Noon's craftsmanship. Some people would call this holster a Pancake, while others might think it a Belt Slide. By any name. It seems to be quite beautiful to me as well as extremely functional. The LCR slides in smoothly and stays put until a positive draw stroke is used. The hand boning gives the holster a unique outline that shows the graceful lines of the LCR and the holster itself. There is an open muzzle to drain debris, and the Topless also features adjustable tension screw, but I have had no use for such to date. The belt loops are optimal for a 1 1/2 inch belt like my HN Rock Solid belt in natural horsehide, but my 1 3/4 belt worked fine, too. This holster puts the gun at perfect angle for me to draw from. I like the snubby to be in the hollow of my back- or a bit more behind my back.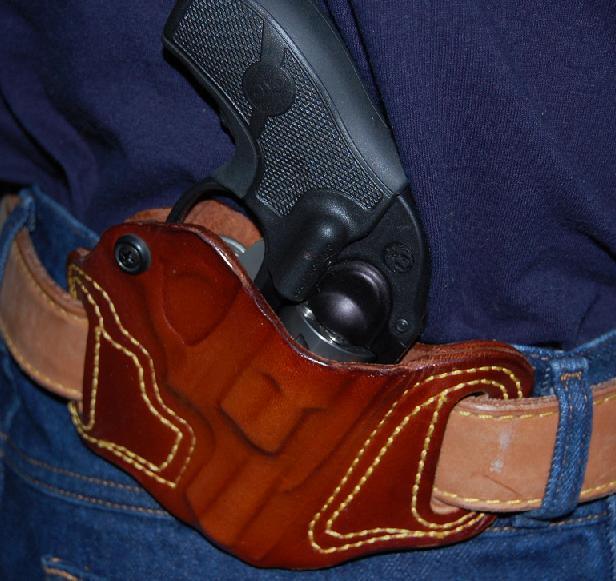 Know that unlike the previous HN holster in this review. The mouth on this holster does remain open after the draw and a quick/smooth reholster is possible. Frankly, everything about his holster screams Quality- and a promise of years of service. At nearly $90 for the Topless. The price isn't cheap, but no quality cowhide (or horsehide) holster is these days. Hand crafted, boned fit, that is secure and comfortable. This High Noon product has a lot to offer for the LCR owner or other person looking for great gun leather. Take a look at my other HN holster reviews at the CZ-ZONE ( www.cz-zone.com) Or visit High Noon, today!
Links:

LCR-BARE ASSET
BARE-ASSET -BACK
BARE ASSET- FRONT
BARE ASSET- LARGE
TOPLESS ON BELT
TOPLESS-REAR
TOPLESS
TOPLESS
MY HIGH NOON REVIEWS
CRIMSON TRACE-LCR
HIGH NOON HOLSTERS

HN SP-101 REVIEW
BACK TO THE CZ-ZONE


Email: cz75_idaho@yahoo.com