UNDER TAKER SHOULDER RIG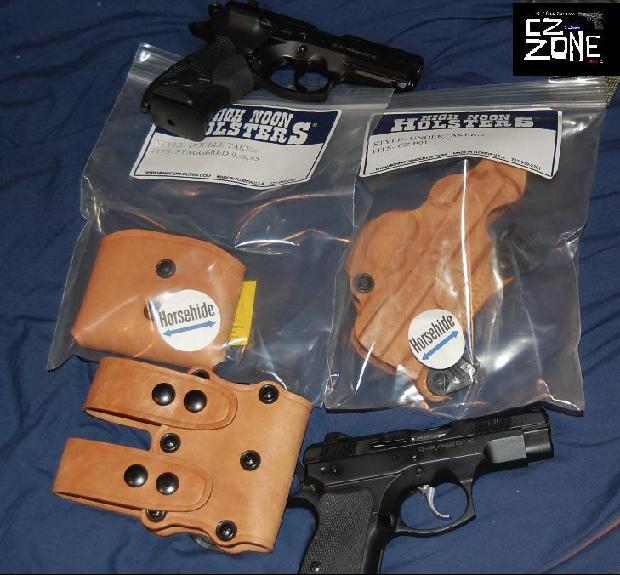 As a dedicated fan of holsters and other gear made out of horsehide. I was very pleased to see a familiar brown truck and special brown box the other day. Crafted from both horsehide and cowhide. This HIGH NOON HOLSTERS product is a striking shoulder rig. Using the harvest moon (my term) colored natural horsehide for the holster body and magazine pouches. They used black cowhide straps for this Under Taker model. This combo of materials gives it a distinct look! Given that fact that my new P-01 features a Crimson trace laser grip. The holster fits, but with some effort in snapping it shut. Those of you with standard CZ grips should do fine. Know that I encountered no problems when trying my wife's PCR in this HN rig. Like my High noon UNDER ARMOR shoulder holster that is made of synthetic material. This is a nice rig to carry your CZ in. The stitching is strong and even. In this instance the usual golden colored thread that HN uses for cowhide and horsehide products. Molded for a P-01. Along with the PCR, my RAMI also fit well. The PCR seems to slide in easily- and there is also the added option of using an adjustment screw. A positive, metal reinforced thumbsnap for extra security. The offside mag pouch holds 16-shot CZ mags, or shorter ones like those for the P-01 in the CZ Compact family. Using a support center (plastic) that looks like and X with rivets holding each strap in place. This sits directly in the center as you fully put the UNDER TAKER on. This rig balances quite well when worn, and I've carried it for the last four days on quick AM trips to Wal-Mart and other places. In contrast to the usual Miami Vice type rigs. These straps are thinner, and lack the flair- or should I say: "belling" as often seen with those straps.. The straps are wide enough for proper support, but not too wide that they become exposed under a light jacket, and seem identical to those on my UNDER ARMOR rig. However, this P-01 rig uses black dyed cowhide. Along with straps. The rivets and adjustment screws are well thought out and sturdy. In my eyes. I think that horsehide is a superior material to cowhide. More costly, but it won't fade, stretch or rot without difficulty that is. I'm sure that time and elements will erode anything. I'll add that they also sent me a DOUBLE TAKE magazine pouch-also made out of horsehide. This is equally as nice or nicer than my single mag case called the TIE BREAKER, that I've worn daily for the last 3 years, and it is good as new. I expect the same performance out of this new mag pouch. A sturdy and comfortable way to carry your spare CZ magazines, by using the belt loops or snapping it on your belt. You can see the Double Take and and other CCW Gear on the HN website. In closing.. HIGH NOON has hit a home run with this blending of holster materials.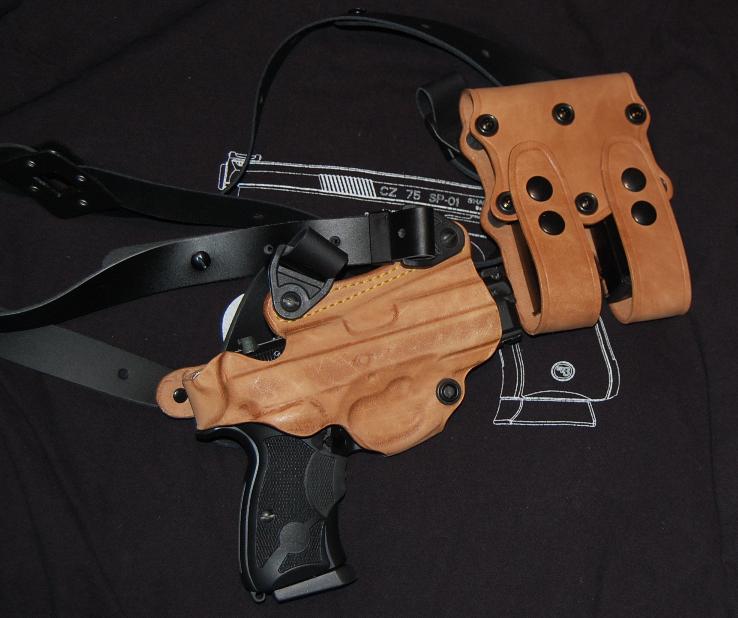 ---Be sure to check elsewhere on my CZ-ZONE for reviews of other HIGH NOON products.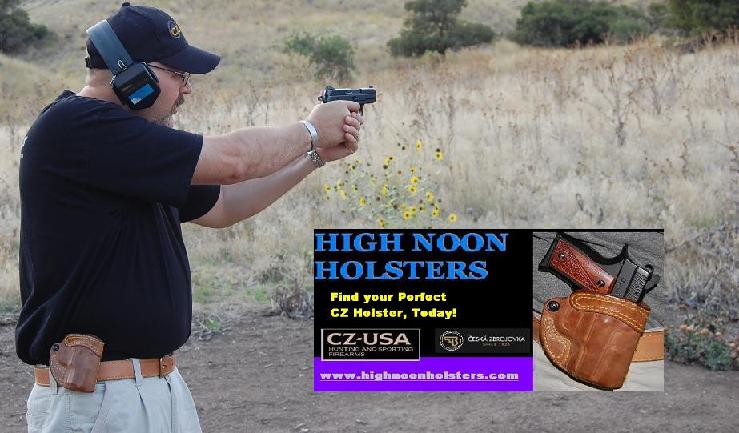 Links:

HN P-01 LARGE
UNDER TAKER- PCR 1
UNDER TAKER- PCR 2
HN PCR REAR
HN DOUBLE TAKE
HN DOUBLE TAKE- REAR
HORNADY CT-FTX
CRIMSON TRACE
HIGH NOON HOLSTERS
NEXT HIGH NOON PAGE
BACK TO THE CZ-ZONE


Email: cz75_idaho@yahoo.com